The Ultimate Guide to Face Masks for Men
If you're like most guys, you've never tried a face mask. But using face masks regularly is actually a good idea; after all, we're all prone to premature aging, wrinkles, and other skin blemishes. Face masks will help you in all these areas.
If you want to stay looking good and healthy, then you better start using face masks. Don't worry about the naysayers. Once they notice your skin, they'll end up using face masks themselves.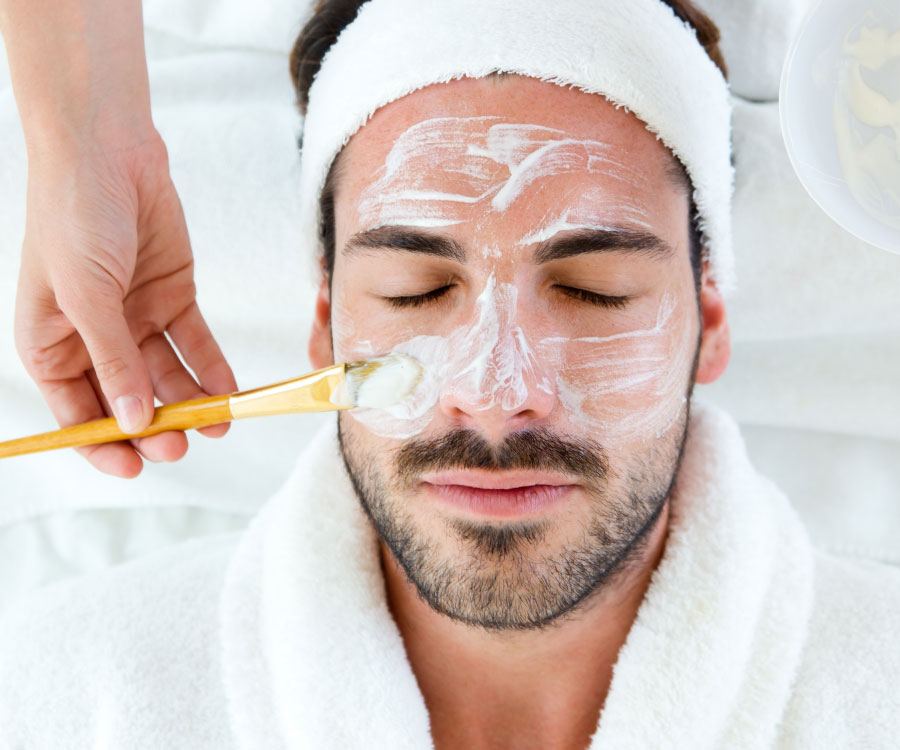 How do face masks work?
Different types of face masks have different purposes. There are masks for deep-cleansing pores, reducing oiliness, adding moisture, and tightening the skin. Nevertheless, all face masks basically eliminate the bad stuff that builds up on your skin and replaces it with the good stuff.
Face masks absorb excess oils, particularly on the t-zone area or the area from the tip of your nose to your lower forehead. They get rid of the dirt, dead skin cells and grime on your face, which reduces blemishes and breakouts.  You can look forward to clearer skin after the first couple uses.
Face masks also tighten the pores, while infusing oxygen and moisture to promote cell turnover and skin renewal. They add antioxidants and vitamins to the epidermis, (outermost layer of skin) to fight against aging and repair skin damage. They also improve blood circulation.
Perks of putting on a face mask
There are plenty of reasons why you should use a face mask at least once a week.
For starters, these masks are therapeutic. After a long day, you can put on a face mask infused with aromatic essential oils to relax. No need to be ashamed of your green tea and mint essential oil-infused mask. Plenty of men use masks to keep their complexion looking good. Just give it a try, we bet that you'll be convinced after your first mask.
Face masks penetrate the top layer of skin, giving you a deeper cleanse. It's not enough to just wash your face with soap and water. You also have to get rid of the deep-rooted impurities like dirt and oil. They knock out the bacteria trapped in your pores that can cause pimples and other blemishes, unclogging the pores and leaving your skin glowing in good health.
After taking off the mask, your skin will be smoother, softer, and more even toned.
Protip: When buying a face mask, choose one with a tingly mint formula to stimulate blood circulation.
Using a Face Mask the Right Way
Clean your face with soap and water. Pat it dry with a soft towel.
Keep your hair back and out of the way making sure that it doesn't fall onto your face.
Wash your hands. Scoop the mask and apply it directly onto your face.  Use enough of the mask so that your face is covered in a light even coat.
Be gentle when applying the face mask using a light circular motion.
Avoid your eyes, nostrils, and mouth areas. Only apply your face mask on the surrounding skin.
Extend the face mask to your throat and neck. Remember that your neck needs protection and cleansing too.
Leave the mask on your face for ten to fifteen minutes, or whatever is indicated on the packaging. Keep yourself relaxed during this time. You can lie down on your couch or bed but be careful not to fall asleep. You shouldn't leave the mask on for more than twenty minutes.
Gently rinse or peel off the mask. You can also use a washcloth and some water to wash it off.
Pat your skin dry with a towel. Refrain from rubbing your skin harshly.
 

Real men use face masks

Real men use face masks – it's the smart thing to do. After all, it's one of the best ways to stay looking your best. So, take the plunge and make it part of your regular skin care routine.  

 

:|zpendofcontent|: